Poncho Sweaters & Shawl Capes are busting myths this season - Here's Why?
Everyone loves a good comeback story, and this season we are loving how our new layers are making a return! Once dubbed 'just a blanket with a hole', poncho sweaters and shawl capes are the comeback queens of the mille collines catalogue. And just like any underdog, their story has been shrouded in intimidation, mystery and misconception. With just the right amount of love, magic and boldness, we have created statement pieces that are classic enough for your everyday wear with regal like prints for your next function. You may have come across our social media pages or adverts about our new poncho sweaters and shawl capes and wondering how you can make these special pieces work for you. In this article we're going to help you bust the myths and discover new styles for your wardrobe.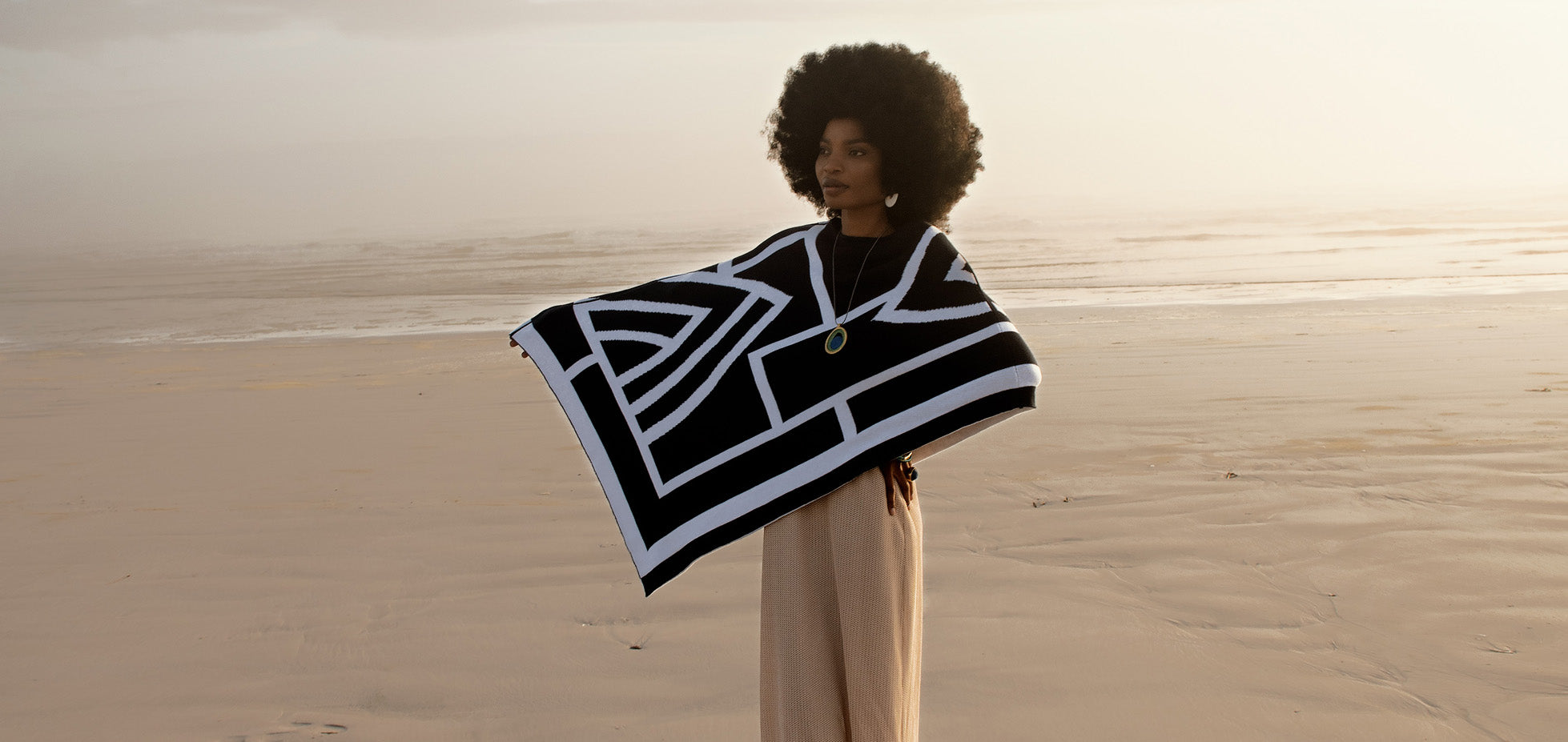 Myth 1: Poncho sweaters are suitable for only specific body types
What happens when you combine bundles of 100%  pure cotton fabric, dye and intricate product design process? Bold, soft and one size fits all  poncho sweaters and shawl capes created with you in mind. These knitwears are breathable with silhouettes suitable for every body type and size. Designed to be light enough for the slight chilly nights in Spring and  cozy warmers during winter. 
 Your clothes should tell your unique story and yet be versatile enough to suit the dynamism of your body and your everyday life. To find out more about how to dress for your body type, check out our blog 'Celebrating the Female form'.
Myth 2: Poncho sweaters are dull and unflattering
Embedded in the fabric of our product design process is the desire to tell the story of the inspiration behind the piece and call them by their names. Motivated by the geometric shapes found on swahili doors or the vivid patterns found on Kuba textiles, out designers created three pieces: the Laini poncho, the Kipeke poncho and the Kuba Cape. 
 Believe it or not, these bold traditional patterns weren't as easy to design as they may seem. Our designers took their time to find the right balance of colour & thickness of lines to create unique prints while still paying homage to the inspiration behind these garments. They relied heavily on the framework of the pattern as a guiding force behind the creation. 
The beauty of geometric prints is that you can never go wrong with them. Wear them bold or understated these classic pieces are symbols of regality and pride so that you can be a walking example of the stories that inspire you. 
Yes, you can pull off these poncho sweaters and shawl capes: Here's How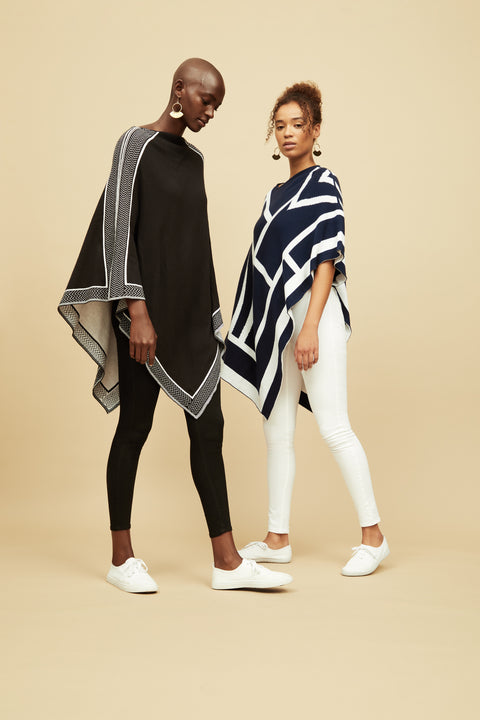 Introducing the Laini & Kipeke Poncho sweaters
Every woman needs a classic chic black and white piece in her wardrobe. Inspired by the name Laini meaning 'soft' in Swahili the poncho sweater is the pure black and white sophistication. Taking a slight opposite approach to the classic is the bold blue and white poncho sweater called the 'Kipeke'. With striking blue and white Kuba textile inspired prints, this garment brings the right does of drama to a the poncho sweater. 
Tips for styling Kipeke & Laini poncho sweaters
Throw this piece over a white collared shirt and jeans for a chic yet casual look for the office or a night out with your loved ones.
Add a belt to cinch the waist and accentuate your figure and create form-fitted silhouette.
 Avoid: We recommend that you try to avoid an over layered look by wearing a more fitted outfit underneath.
Introducing our Kuba shawl cape
We've affectionately named the "Kuba Cape" is versatile, bold and fun. Inspired by the prints found on traditional Kuba textiles from Congo, the pattern on the cape was hand drawn with love. Kuba, which is also known as the 'Cloth of Kings', is reminiscent of the Kingdom of the Bakuba.  Traditionally, the beautiful Kuba cloth was tied directly to hierarchy and political authority. This piece is sleeveless and designed to be versatile in the ways it can be styled .
 The 'cardigan' style for the Kuba shawl cape:
Wear this shawl like a cardigan over a simple black or white top and a pair of pants.This cardigan-like style can be accomplished by fastening the side buttons and the front. Make a statement with  this style by throwing it over a black top & pants.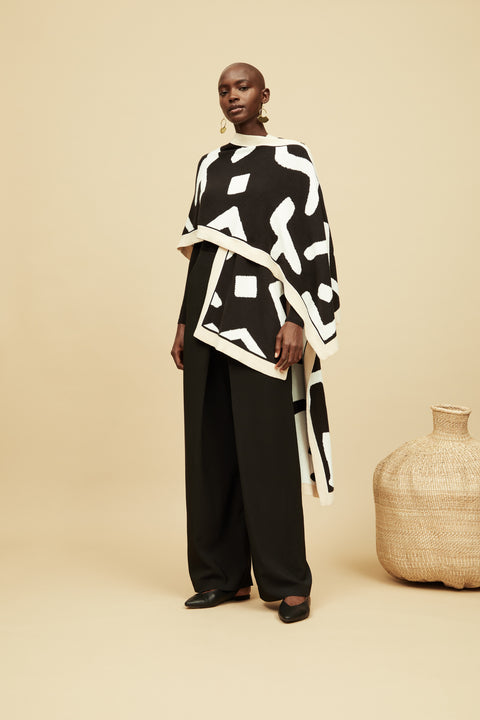 "The Hug" style for the unisex shawl cape:
We added something to this unique garment: a button on the top left hand side shoulder to help you achieve the Hug look. Accomplish this style by throwing the right end of the Kuba cape over the shoulder and fasten it to the left shoulder button for a dignified look this season. 
We are curious to see how you are styling yours. DM us on social media or drop us an email at sales@millecollinesafrica.com to share your poncho sweater or shawl cape story.