The Ultimate Guide to Our Bestselling Women's Shawls & Wraps
Everything you need to know about our bestselling women's shawls and wraps
We're inspired by the way women wrap and adorn themselves in fabric, which is very much particular to many cultures in Africa, particularly in East Africa where the mille collines story began. Our vision was to reinterpret this tradition with a modern twist for styling your everyday wardrobe. This materialised into the creation of our signature women's shawl and wraps that we all know and love–the Halisi
Shawl and Kichana Wrap.
We want to share with you everything you need
to know about our bestselling women's shawls and wraps. So we put togther a complete guide with tips to style and care for your new shawls and wraps.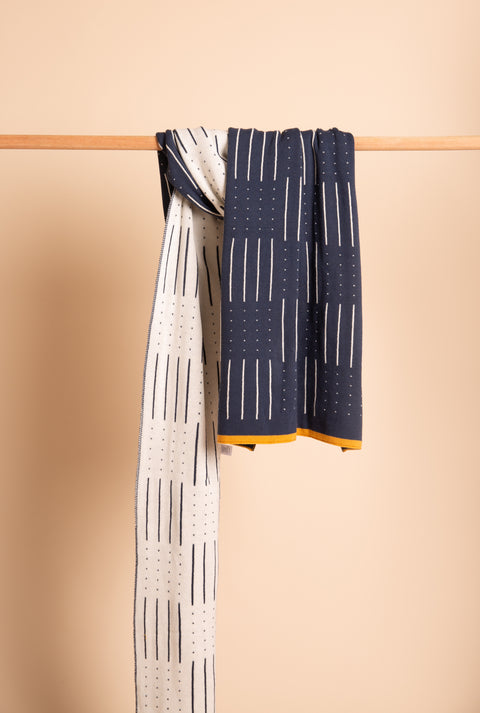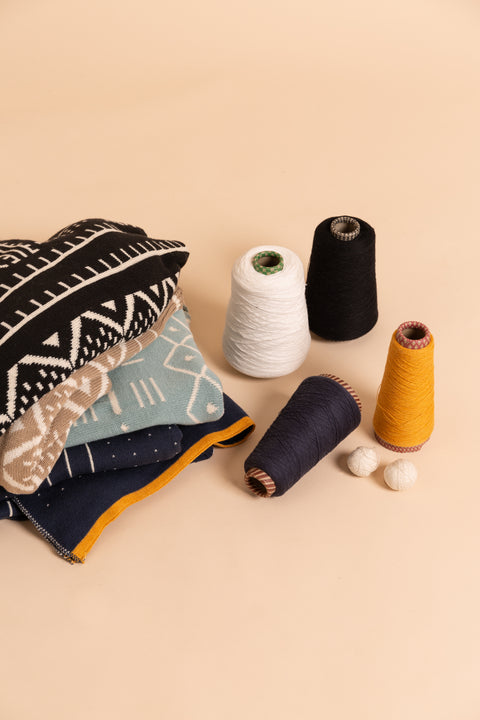 Made with love - the Kichana wrap story
The beginning of wisdom is to call things by their proper name. One of the signature aspects of our product design is to bring an object to life by appropriately naming it. We named our unique knitted cotton women's wrap, "Kichana", here's why:
Our Kichana Wrap is a medium weight women's shawl that derives its name from the Kenyan Swahili term 'Kichana' meaning 'comb'. In Swahili culture, prints and symbols that are used in textiles always have
meaning and traditionally these were meant as celebratory symbols. With this in
mind, we chose a comb as our symbol because we felt it was close to our values
of celebrating the African woman, natural beauty and of course, natural hair.
Made from 100% cotton yarn that is sourced from a cotton
spinning mill in Pietermaritzburg. The yarn is then dyed in Worcester by one of
the only cotton dyers in the Western Cape. A reactive dye process is used. This
process is effluent friendly so they make sure not to pollute the water
afterwards with the dyes.
The first question people usually ask when they're
introduced to our Kichana wrap is how do you wear it? The beauty of this piece
is that it's so versatile there seem to be endless ways to wear it and this was
a very intentional part of creating this garment. Each style of our Kichana
Wrap has a unique pattern and colourway that elevates any outfit for every
occasion.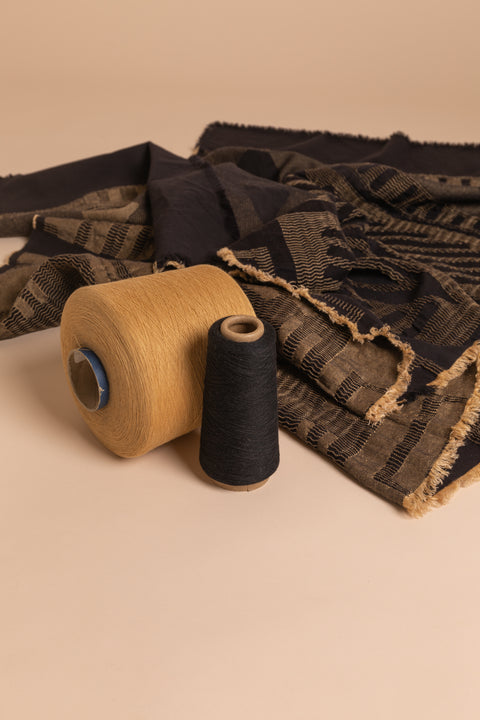 Made with love - The "Halisi" Shawl story
The Halisi Shawl is an elegant women's shawl that celebrates craftsmanship, traditional weaving techniques and of course, beauty. 'Halisi' means "Authentic" in Swahili. We chose this name because we
believe that what makes each of us beautiful is our own authenticity. We each
have our own special brand of uniqueness and this is what inspired the Halisi Shawl.
This women's shawl is made as an ode to traditional African weaving practices, a tradition we wish to honor and keep
alive. The interweaving of African Cotton and French Linen contributes to the unique texture and quality of the garment. This piece is also special as we made it in collaboration with African Jacquard, a Cape Town based brand that experiments
with industrial jacquard looms to create beautiful textiles. In our Meet the
Maker series African Jacquard x mille collines, we captured
amazing footage of the Halisi Shawl being woven on the loom.
Fall and winter style Tips: How to style your women's shawls and wraps
 We've included our top recommendations for styling our beautiful Kichana Wraps or Halisi Shawls and  adding some flair to your outfits. We've included our Black and Pop Green Kichana Wrap and Black and Gold Halisi Shawl but the Kichana comes in colorways Black Ecru, Navy Cream, Pop Green, Duck Egg & Sand Ecru) and the Halisi comes in 2 colorways (Black Gold & Red Pink) so both pieces have colorways to match your mood and outfit.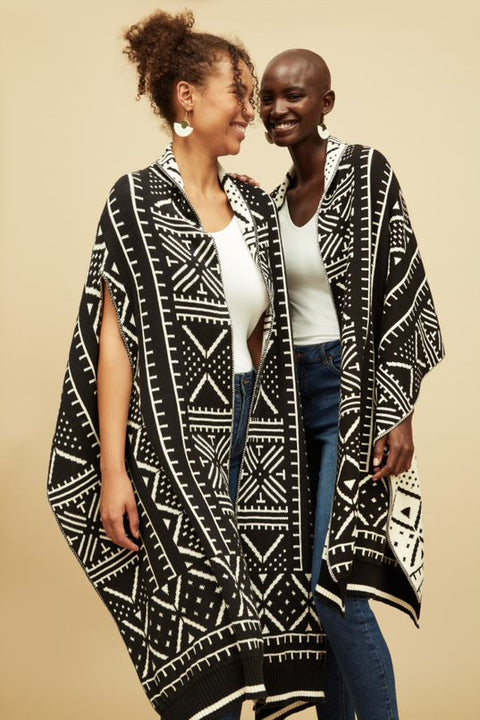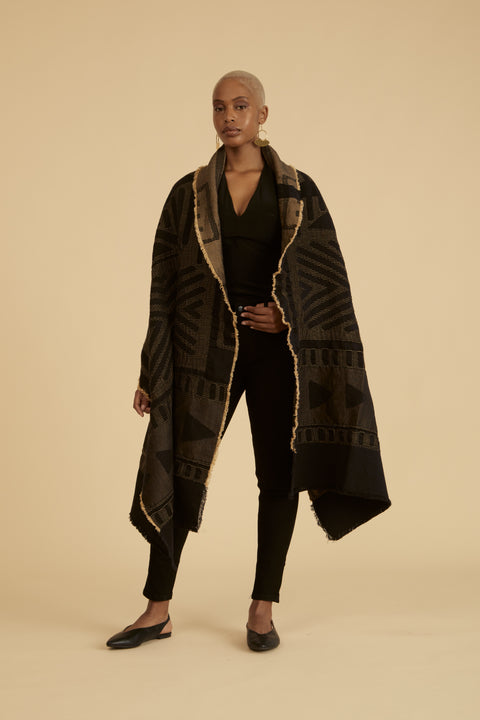 Wrap and Shawl Style 1: THE THROW
One of our customer favorite styles is what we call "The Throw." To get this look, place one arm through the
armhole and wrap the other end over your shoulders. This style is casual yet sophisticated. Throw it over a basic white tee-shirt and a pair of jeans to take your casual outfit to the next level.
This look can also be accomplished with a Halisi Shawl. Although this  shawl does not have an arm hole the same look
can be achieved by throwing both ends of the garment over either side of your shoulders as shown in the picture.
 This style is unisex and can be worn over a classic suit or over a pair of jeans andT-Shirt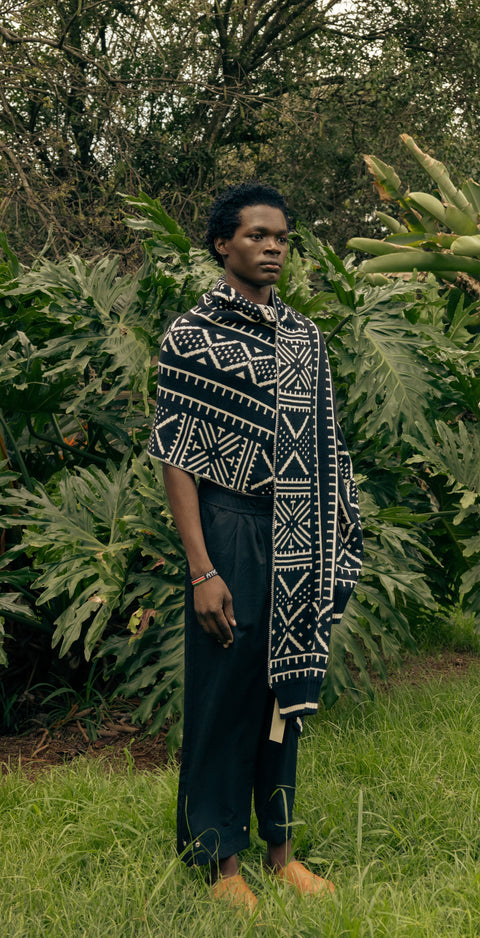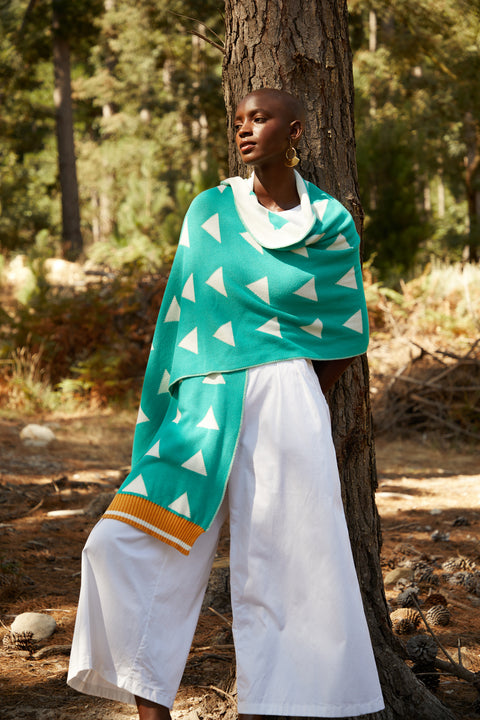 Wrap and Shawl Style 2: THE HUG
Another unique style to try out this season is the 'Hug'. This style can work when
paired with a plain black or plain white outfit. It adds just the right amount
of boldness and draws attention towards your shawl or wrap.
Try this style by placing one arm through the designated armhole of your Kichana
Wrap and wrap the other end across your shoulder. You can achieve the same look
with the Halisi Shawl by simply placing one side over your shoulder and
wrapping the other side across the opposite shoulder. We've found this styling
tip allows for the wrap to become unisex and work as a statement over a suit or
an evening dress.
Wrap and Shawl Style 3: THE SKIRT
We can't share our favorite ways of styling this shawl with you without mentioning 'The Skirt'. This style works exclusively with our Halisi Shawl due to the length of the garment which allows it to compliment any waist size.
Wrap your Halisi women's shawl around the bottom part of your outfit and pair it with a plain darker toned shirt/top or a classic black dress underneath. This style is a fun and creative way of elevating an evening/formal look.
If you want to make a statement at your next event, try out this unique style.
For more style ideas, check out our vlog: Mille
Collines Kichana Wrap - How To Video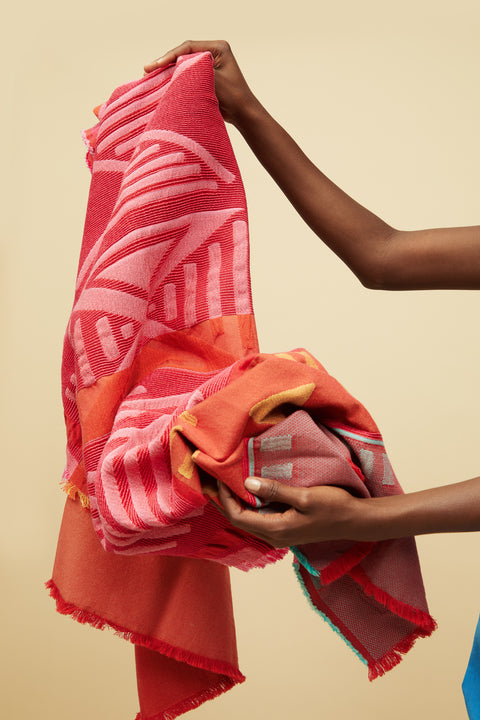 How to care for your women's shawls and wraps?
We aim to create pieces that are timeless and can be passed down from generation to generation. This is why caring for the products is so important. Here are a few tips on howto care for your Kichana wrap or Halisi Shawl.
Caring for your Kichana Wrap
The Kichana wrap can be machine washed separately, on a light/gentle spin, at 30 degrees Celsius maximum. When wet, pull back into shape and air dry.
Caring for your Halisi Shawl
We recommend hand washing your Halisi Shawl before throwing it into the washing machine. The water
Temperature cannot be above 40 degrees. Softener to be added to maintain softness. We recommend washing colours separately.