The first time we worked with Purely Porcelain was to create accessories for our Swahili Collection Runway show for Cape Town Fashion Week in 2017, this time around we were looking for a material that could replace and imitate the bone element in our Zuri earrings and we thought, why not porcelain!
Purely Porcelain is a ceramics studio based out of Imhoff farm located in Kommetjie (about an hour outside of Cape Town). We love any excuse to get out of the office and go on a road trip and Imhoff Farm is the perfect destination for a day trip, hello animals, hello nature, hello fresh air!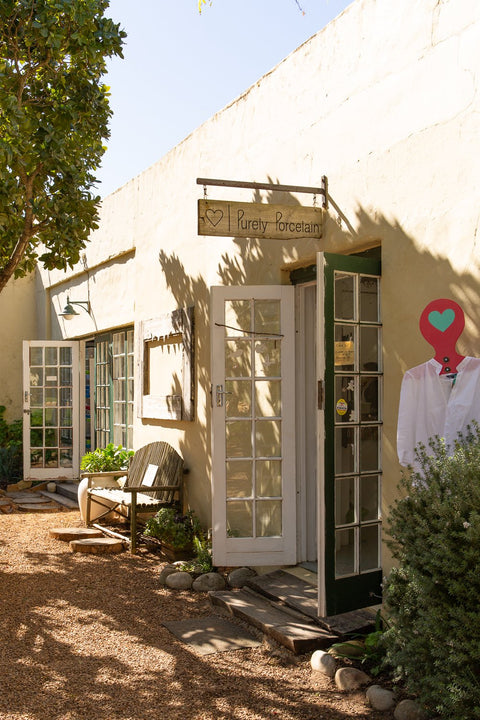 It was such a pleasure to spend a bit of time in Purely Porcelain studio with Fiona and her team. All white-washed wood and soft natural light, the radio playing softly in the background while this all female team works their magic with their hands.
Here's a little peek into their world.
How did Purely Porcelain come about?
I was first introduced to ceramics when I was 17 and still living in Belfast. Years later, after emigrating to South Africa, I rediscovered this passion while living up the West Coast. The small mining town that we lived in had a wonderful pottery studio and I spent many happy hours over the years throwing and turning pots.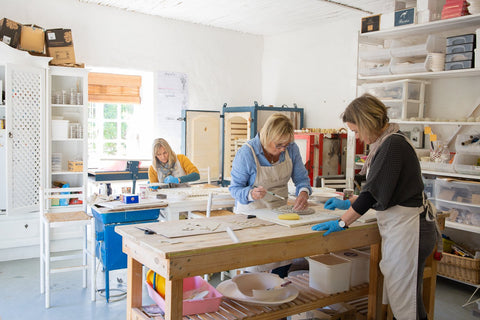 After relocating to Cape Town I bought my own wheel and kiln, but it was only years later after receiving a ceramic pendant as a gift, that I started to work with porcelain. I had never thought to use ceramics to create jewellery previously, but the possibilities that this realization opened where endless. My daughter and business partner, Megan, was working in advertising at the time and helped me create the brand Purely Porcelain. In 2014 we applied for and were offered a shop at the V&A Watershed and this signified the change from a cottage industry to a business. As a result Megan left her job at the agency and we opened the studio and here we are today.
What does a typical day in the studio look like?
The process of working with ceramics is divided into different stages. We need to hand-make, dry, wash, bisque fire, glaze and then glaze fire each and every piece before finishing the products, packaging and delivering them. Each process takes a few days to complete, as you need to fill an entire kiln before moving on to the next stage.
Although our focus shifts every few days between the various processes, our typical day is made up of a small and lovely team of girls, lots of chatter, dusty white hands, porcelain flowers on every surface, 11 o clock tea and biscuits, Cape Talk radio, customers popping in and out of the studio and all this to the soundtrack of Imhoff's resident farmyard animals.
When do you feel most creative?
I definitely feel most creative when I get a few hours on my own in the studio. The solitude gives me a chance to break from the usual routine and I love to put on an audiobook and have some fun playing with new ideas.
If you could describe working with ceramics in a few words, how would you describe the process?
Therapeutic - in every sense of the word.
Rewarding – when you see the final creation of the product you have worked on from conception to the smile on a happy customers face.
Endless Possibilities – with clay you are only limited by your own creativity.
Contentment – the best part of my day is getting my hands dirty in the company of the girls.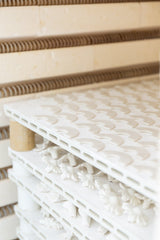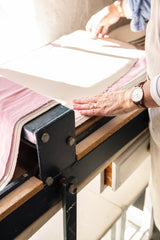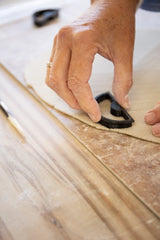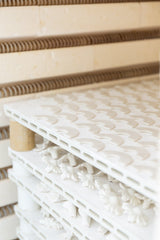 What has working with this art/design form taught you?
Clay as a medium is so versatile, as a creative it is wonderful as the possibilities are infinite. I've also learnt that practice makes perfect and every flower you sculpt looks a little better than the last one, at times it can be very frustrating but oh so satisfying when you finally get it right. Purely Porcelain has also taught me the joy and reward of doing something you love with a team that you love, I feel very lucky.