PRINT ON PRINT - Explore your sense of style
Style is all about self-expression and taking risks, and what better way to make a bold statement than by embracing the captivating trend of print on print? The Akazi Reversible Bomber Jacket and Zalika Pants offer the perfect opportunity to elevate your style with a head-turning combination of prints.
As you zip up your jacket and hit the road, you're not just wearing a piece of clothing; you're wearing a story—a story that celebrates your love for travel and your companion as you chase your dreams, embracing both the comfort and style that travel brings.
Here are some reasons why you should step out of your comfort zone and discover the exciting world of prints to create an ensemble that is uniquely yours.
.
For him, her & them
The reversible bomber jacket breaks the mould, effortlessly blurring the lines between masculine and feminine styles. With its sleek silhouette and bold  design, this versatile jacket is a statement of inclusivity, welcoming all genders to embrace its  prowess.
 The Peachskin texture adds a soft and luxurious feel to our unique African wax-inspired print with high-level breathability and a comfortable fit for men and women. Its lightweight construction ensures easy packing without sacrificing functionality.
Switch it up like a pro
In the fast-paced world of travel, versatility and style go hand in hand. Traveling often means packing light and making the most of your wardrobe. The unisex reversible bomber jacket comes to the rescue with its dual personalities.
With just one jacket, you have endless possibilities for styling and transforming your look. We created three sets of two colourways for each bomber jacket: Palm/Watermelon, Black Leaf/Blue Leaf and Floral/Peacock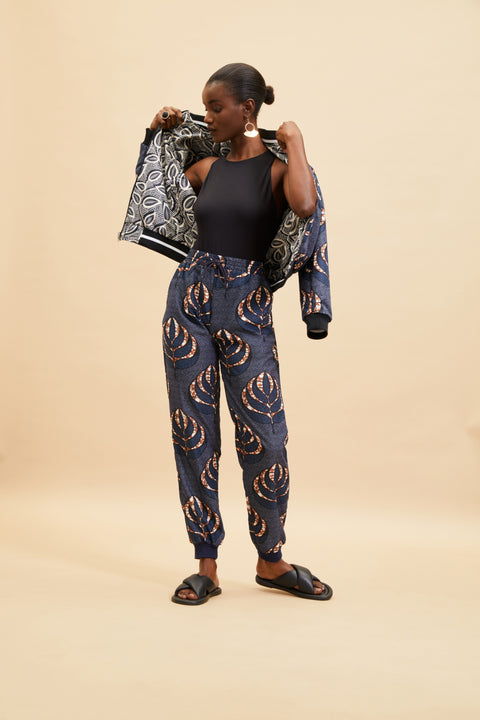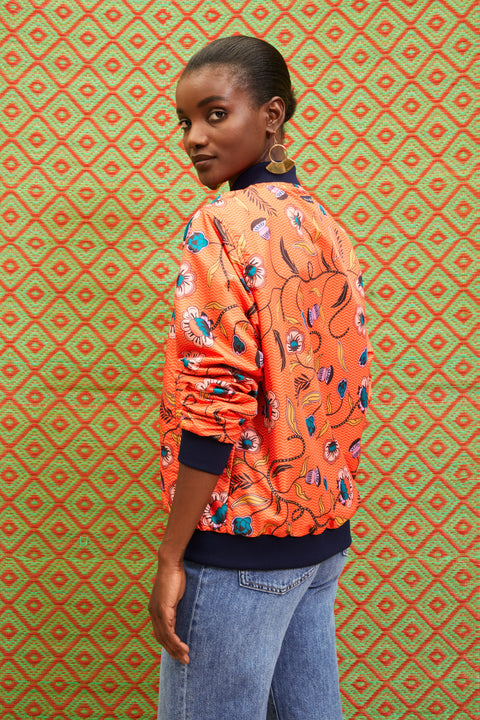 Mix and Match
Mixing prints can seem daunting at first, but with a little guidance, you'll become a pro in no time. Start by selecting prints that share a similar color palette or have complementary elements. For instance, pair a floral print reversible designer bomber jacket with geometric-printed pants for an interesting juxtaposition. 
The key to mixing prints is to find a balance between the prints, allowing each piece to shine while still harmoniously working together to create a cohesive look.
The perfect matching set
We have an undying passion for the art of matching African wax prints. The beauty of the African Wax print lies in its ability to create stunning matching sets. That's precisely why we couldn't resist pairing our exquisite Akazi Reversible Bomber Jacket in Blackleaf/Blue leaf with the lightweight and stylish Zalika designer pants.
Available in two captivating colorways—Black Leaf and Blue Leaf—the Zalika Pants are the perfect companion for your next adventure.